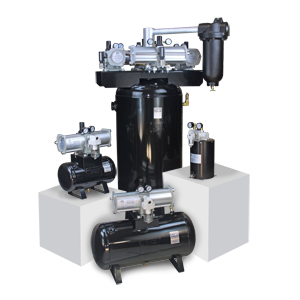 Air Pressure Booster Systems
Midwest Pressure Systems air pressure boosters, also called air amplifiers, air pressure amplifiers, and air pressure intensifiers, boost shop air pressure. The pressure boost can be as low as 5 psi or as high as thousands of psi. Shop air is the motive force for the boosters, so they require no electricity, cooling water or lubrication. They are explosion proof, compact, easy to install and economical. Information describing our standard systems is available from the links below. The boost ratio is based on the supply air pressure.
»Frequently Asked Questions
»Air Products Shipping Information
»Air Products Repair Kit Information
We offer custom systems with higher boost ratios and flowrates than our standard systems.
RL Series
» 2 to 1 Boost Ratio, 0-5 scfm flowrate
» 4 to 1 Boost Ratio, 0-1.3 scfm flowrate

R Series
» 2 to 1 Boost Ratio, 0-50 scfm flowrate
» 2 to 1 Boost Ratio, 0-100 scfm flowrate
» 2 to 1 Boost Ratio, 0-150 scfm flowrate
» 2 to 1 Boost Ratio, 0-200 scfm flowrate

40 Series
» 2 to 1 Boost Ratio, 0-40 scfm flowrate
» 2.8 to 1 Boost Ratio, 0-17 scfm flowrate
» 4 to 1 Boost Ratio, 0-30 scfm flowrate
» 5 to 1 Boost Ratio, 0-8 scfm flowrate
» 10 to 1 Boost Ratio, 0-3 scfm flowrate

50 Series
» 2.5 to 1 Boost Ratio, 0-40 scfm flowrate
» 3.7 to 1 Boost Ratio, 0-24 scfm flowrate
» 7.2 to 1 Boost Ratio, 0-10 scfm flowrate

View more products:
Air Pressure Boosters Systems • Gas Pressure Boosters Systems • Pressure Boosters for Nitrogen Generators • Repair Parts & Kits • High Pressure Tanks • Custom Design & Services