Available in 2019 • Nitrogen Generator and Cylinder Fill Station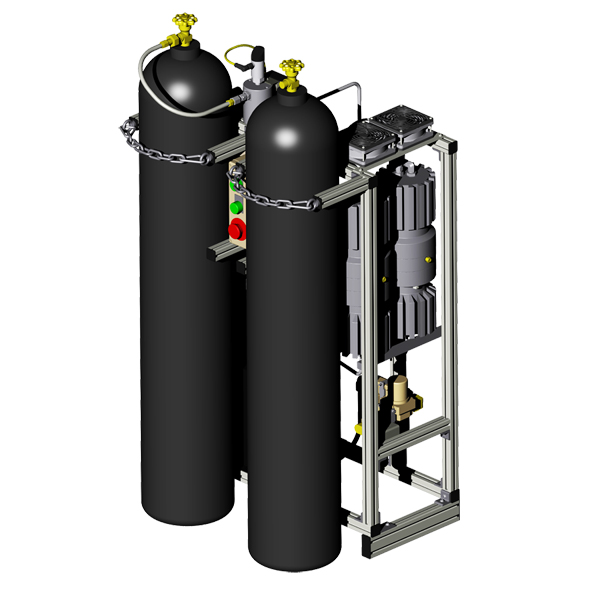 Nitrogen generator and cylinder fill station
2250 psig max pressure, 1 scfm Flowrate
Midwest Pressure Systems, Inc. will offer a turnkey, nitrogen generator and N2 cylinder fill station in the first quarter of 2019.
Construction
The system includes a membrane nitrogen generator, a 2-stage, non-lubricated, 1.5 horsepower high pressure nitrogen compressor, two nitrogen cylinders and associated piping, accessories and controls.
Operation
A small amount of shop air and electricity are required to fill nitrogen cylinders with 99% purity nitrogen. The specifications for this system are listed below.
»Frequently Asked Questions - FAQs
»Shipping Information

Available in 2019 • Gas Booster Compressor
N2 Systems Specifications
N2 Cylinder Fill Station
Gas Booster Compressor
-
Nitrogen supply pressure
80 psig
1 scfm
Nitrogen Flowrate
1 scfm
99%
Nitrogen Purity
-
2250 psig
Discharge pressure
2500 psig
110 VAC
Electricity required
110 VAC
4 scfm @ 90 psig
Shop air required
-
24/7
Duty cycle
24/7
230 scf
Cylinder size
-
Two
Cylinder quantity
-
< 4 hours
Time to fill one cylinder
-
28 x 36 x 60 in
Approximate dimensions (L x W x H)
20 x 30 x 48 in
4500+ hours
Maintenance interval
4500+ hours
< $30,000
Price
< $16,000
Nitrogen Compressor Systems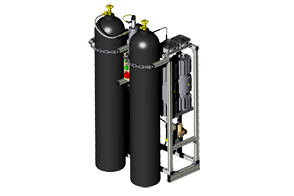 N2 Cylinder Fill Station < $30,000
1 scfm Nitrogen cylinder fill station
2250 psig Maximum Pressure
Two Nitrogen Cylinders (2250 psig)
Continuous duty operation
4500+ hours with no maintenance
28"(L) x 36"(W) x 60"(H)
For further information contact us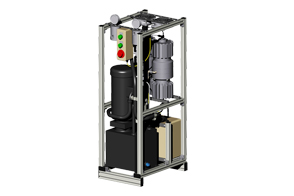 Gas Booster Compressor < $16,000
1 scfm flowrate with 80 psig supply
2500 psig Maximum Pressure
Continuous duty operation
4500+ hours with no maintenance
20"(L) x 30"(W) x 48"(H)
For further information contact us
View more products:
Air Pressure Boosters Systems • Gas Pressure Boosters Systems • Pressure Boosters for Nitrogen Generators • Repair Parts & Kits • High Pressure Tanks • Custom Design & Services