Custom Design & Build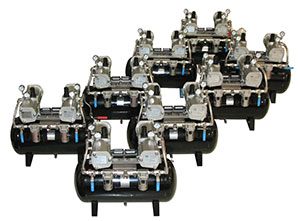 Midwest Pressure Systems (MPS) designs new products and modifies existing products to address specific business requirements. MPS can rapidly deploy solutions at scale because engineering, manufacturing, assembly and testing occur in a highly collaborative environment from a single location.
Customization can be as simple as implementing minor changes to a standard product. For example, the photo to the right shows 8 MPS air pressure booster systems outfitted with stainless steel components rather than the standard brass and copper components.
Note: Please contact the MPS engineering team to help identify the optimal solution for your application.
Engineering Support
MPS provides superior engineering support before, during and after the purchase. For 30+ years the MPS engineering team has led in the pressurized air and gas systems industry. Our engineering team and assembly technicians maintain a knowledge base in both MPS products and the products of competitors. Beside the standard offerings, we also provide consultation on working with high pressures, various flow rates, special materials, a wide range of elastomers, and product variations.
Note: Please contact us to tap into our engineering and industry expertise.
Product Repair/Maintenance
MPS boosters contain wear parts that need replacement when the useful life is exceeded. Customers have the option to purchase repair kits or use MPS trained technicians to analyze, quote and complete a repair.
MPS provides free analysis and a detailed quotation before starting a repair. The cost of repairs is often less than 50% of a new unit.
Note: Please contact us to get return authorization before sending a unit for repair.
Export Services
MPS is an experienced exporter compliant with all current U.S. government export regulations as well as foreign customs clearance documentation requirements. International documentation includes all of the necessary details to ensure a smooth customs clearance process in the foreign country.
All MPS products are packaged with an operating manual. Nitrogen boosters will also come with a test report.
Private or Custom Labeling
MPS can private label or provide a custom stainless steel label for your product on a per order basis. Please contact us.