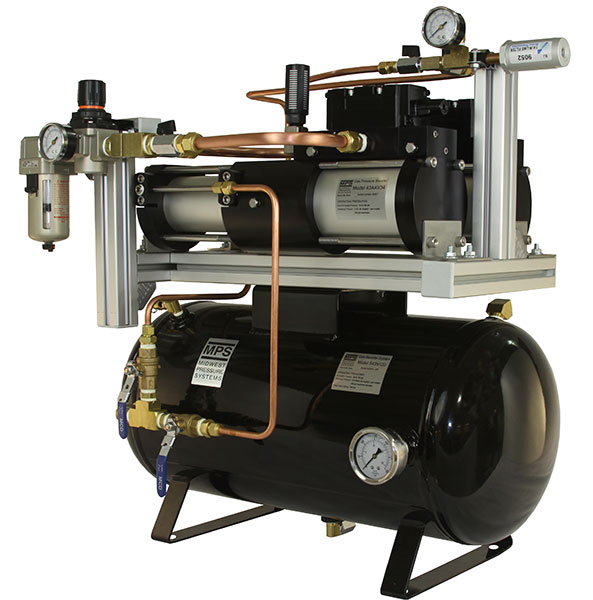 S43N12D Gas Booster System
2.8 to 1 Boost Ratio, 0-34 scfm Flowrate
This dual gas booster system uses shop air to boost the pressure of an inert gas stream. The maximum discharge pressure is the sum of the gas inlet pressure and 1.78 times the shop air pressure. The table below shows the maximum flowrate capability with 80 psi shop air and a typical range of inlet and discharge gas pressures.
Booster Construction
The major components of the gas booster are anodized aluminum. The hardware components, check valves and piston rod are stainless steel. The air cylinder and gas cylinder are seperated by a distance piece which prevents cross contamination between the shop air and the gas. The booster is non-lubricated, and uses filled Teflon® piston seals and rod seals. It requires no electricity, cooling water, or air-line lubricator and is explosion proof.
System Construction
This dual gas booster system utilizes two 2.8:1 boosters mounted on a 12 gallon powder coated carbon steel receiver tank. A framework of aluminum rails is mounted to the tank, creating a sturdy platform to which the twin boosters are mounted. Copper tubing, and brass compression fittings and valves are used to connect the boosters and components. The 5µm drive air inlet filter is constructed of aluminum with a transparent polycarbonate element cover. The drive air regulator is constructed of aluminum with a POM plastic knob and nitrile rubber diaphram. An aluminium and brass inline filter is used to filter the inlet gas. A liquid filled gauge displays the gas inlet pressure. Two standard gauges display drive air and gas inlet pressures.
Booster Operation
Shop air is fed into the 4 inch diameter drive cylinders and the gas stream is fed into the 3 inch diameter boost cylinder inlet ports. Both the gas flowrate and the gas discharge pressure can be controlled by throttling the shop air flowrate and/or regulating the shop air pressure. The air pistons reciprocate automatically and drive the gas compressor pistons. When there is no demand for high pressure gas, the booster stalls when it reaches the maximum discharge pressure. When there is a need for high pressure gas, the pressure in the discharge line drops which causes the booster to restart automatically. No shop air is consumed when the booster is stalled.
»Frequently Asked Questions - FAQs
»Shipping Information
»Gas Booster Repair Kits
Maximum Gas Flowrate in scfm Driven with 80 psi Shop Air Pressure
Gas Supply Pressure (psi)
Gas Discharge Pressure (psi)
100
120
140
160
180
200
220
60
28.5
27.5
23.0
19.5
14.0
70
34.0
30.5
26.0
22.5
18.0
8.0
80
34.5
31.0
27.5
22.5
14.0
90
34.0
30.5
26.0
19.0
10.0
100
34.0
30.0
24.0
15.0
2.8:1 Gas Booster System
12 Gallon Tank
Model S43N12D • $9400
2.8:1 Gas Booster System
230 psi Maximum Pressure
12 Gallon Receiver Tank
Drive Air Regulator
29.0"(L) x 20.1"(W) x 29.5"(H) • 124 pounds
» Brochure
» Instructions
View more products:
Air Pressure Booster Systems • Gas Pressure Booster Systems • Electric Inert Gas Pressure Booster Systems • Repair Parts & Kits • High Pressure Tanks